Previous  post on Fixvirus.com: Can you Be 100% certain that your network systems are not Vulnerable?
These are the criminals you are hoping upon hope will not hack you. (part of the top10 FBI Cyber most wanted not caught yet)
And PCI compliance?
It is true that you are not likely to be fined for non-PCI Compliance from a statistical basis. i.e.  Just like only a certain amount of IRS tax submittals are actually audited, only a unique situation (breach?) would get the attention of the Payment Card Industry (PCI).
It is also interesting to note that 75% of surveys were not completed because they were incomplete.
In our estimation most small business does not understand security or PCI compliance. This is understandable, but not excusable and we are going to make an effort to educate the masses through radio and more to explain the "Psychology of Security"
VISA says that most businesses fail in the following manner when breached: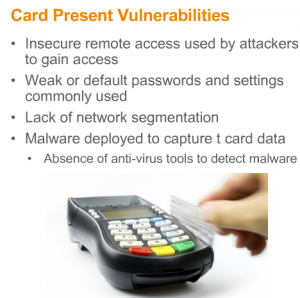 Image by VISA (visa.com/cisp)
30% of small businesses do not have proper security in place (Merchant Industries)
They do not have PCI compliance standards or beyond set.
Most people do not spend time thinking about security, and assume their devices will work and are secure enough. There is a lack of understanding of how bad it is in the criminal world, even though businesses are getting ransomware.
We are here to make securing your systems easier. We can review your IT systems to see if they can withstand continuous attacks from Criminal Hackers.
some of our blog posts on this topic:
http://oversitesentry.com/90-cc-machines-have-default-password/  June 30
http://oversitesentry.com/tonyz/pubhtml/fixvirus/emv-and-pci-compliance/   March 26
http://oversitesentry.com/pci-compliance-security-weakpoints/   March 23
http://oversitesentry.com/ensuring-pci-compliance-is-not-computer-security/   March 21
http://oversitesentry.com/tonyz/pubhtml/fixvirus/pci-compliance-affects-legal-liabilities/  February 10
Our blog is at http://www.oversitesentry.com
Contact Us to review your security profile.