The Cybercrowd Spotify RSS Feed: https://anchor.fm/tony-zafiropoulos
Always check for latest episodes for podcast show "Cybercrowd" on Spotify
Newest podcast as of 2/3/23 is Ep3.3 Russian Attacks Could Cascade and cause many breaches here is a preview of the Google Fi data breach issue: (image from 3.3 show)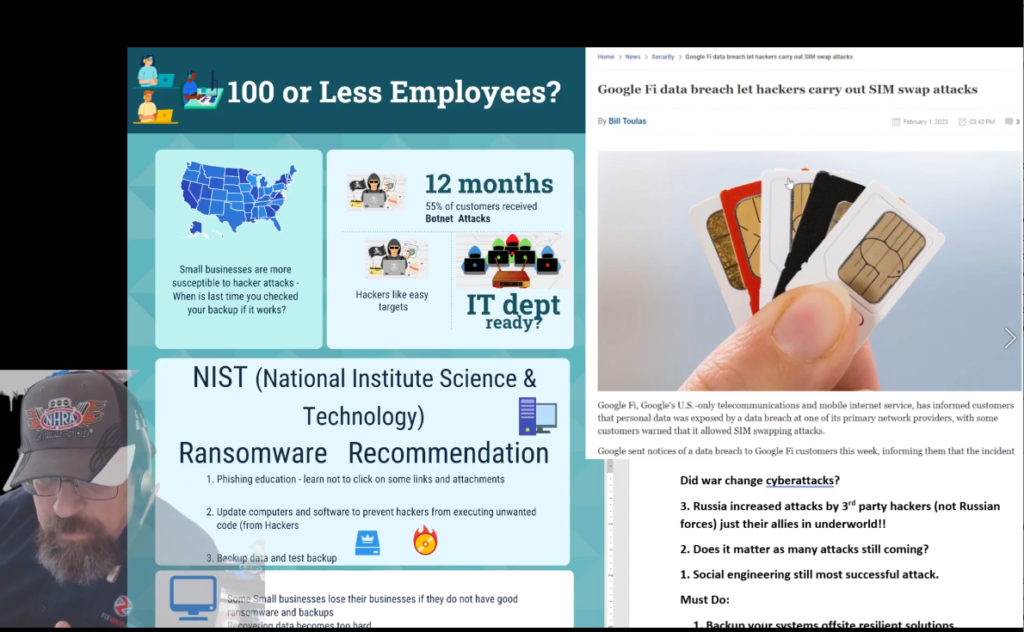 The latest Podcast show is Ep2.5: Top5 posts on Oversitesentry "most important Cybersecurity topics" for 2022 of course
We have a youtube channel "ctitek" where we upload our videos created.
Also created a Rumble channel "fixvirus" called Small business cybersecurity
I made more rumble videos – I guess should update this list more frequently – but 12/31/22 Rumble video:
(12/31/22)"Top5 posts on Oversitesentry" most important cybersecurity topics for 2022.
New Rumble Video 6/21/22 https://rumble.com/v197fsp-top-5-prevent-hacks.html Top5 ways to prevent hacks
Latest Rumble video June2, 2022: https://rumble.com/v173dwj-why-did-china-declare-war-on-the-west.html About Why did China declare War on the west/USA? Exchange server hack and more.
Newest Rumble video November 12th Outline of book: https://rumble.com/vp51wn-fixvirus-show-nov12-outline-of-book.html
Newest Rumble video = November 9th trojansource issue – Quick result is patch/update your systems faster. rumble video https://rumble.com/voytxv-nov9fixvirus-show-trojansource.html?mref=6zof&mrefc=2
Another Rumble video – October 11th – Opposite Day – explain to me why I need Cybersecurity under 3min: Rumble Video https://rumble.com/vnm4w5-oct11-opposite-day-video-explain-to-me-why-i-should-cyberscurity.html
New rumble Video discussion in 3 min https://rumble.com/vnhubp-october8-fixvirus-short1.html
New Rumble video about the post this week October 5th – Interconnected CCP China apps will cause us problems https://rumble.com/vndf37-interconnected-apps-to-ccp-will-cause-cybersecurity-problems.html Buy my book here: https://fixvirus.com/pre-order-book/
Latest rumble Video: July 21st – Joke Wednesday https://rumble.com/vk53mw-jokewednesday-21st-july.html
July 17 release (about who is attacking us) https://rumble.com/vjyb26-who-is-attacking-us.html
Rumble video July 9th https://rumble.com/vjn89b-fixvirus-showjuly9th.html about why we are getting more and more ransomware and the latest Kaseya attack.
Rumble video (6/16/21) about discussing what should be the conversation: "When" Ransomware hits not "IF"
Rumble Video 06/16/21 how 6 degrees of separation can harm cyberdefense
Rumble video(6/9/21) about the 8.4 Billion password file released to hackers:
https://rumble.com/vibbej-8.4billion-passwordhack.html #cybersecurity #security
Here is latest rumble video about triple extortion ransomware and some effects 5/19/21
Another Rumble video on 4/30, it is about the copy culture in China.
here is first rumble video posted here:
Rumble Link this video is about some new revelation about the SolarWinds Hack
Another show Premieres 4/16/21 Youtube link about 3 items – threat actors, EOL (End of Life) patching, and security policy
New show finally 4/9/21 fixvirus Show Youtube link about my new book and discussing why some people do not pay attention to #cybersecurity.
The latest fixvirus installment on the Inside and Out show (radio show on radio63119.org) from 6/11/20.
Added video (4/28/20) the C'mon man edition about the Oversitesentry blogpost.
Fixvirus show April 28th
Added video (4/15/20) RCE Edition about the Oversitesentry RCE blogpost
Fixvirus show April 15th
Added a new video(4/1/20) about the newest blogpost in Oversitesentry:
What are Some Current Phishing Scams to Look Out for?
a bit older show 3/18/20:
Why is there higher risk tolerance in Cybersecurity than COVID-19?
Finally adding some more content here is the Dec11 show on PCI compliance:
1/6/2018 https://youtu.be/MziDbc-pWa8
4/10/2017 https://www.youtube.com/edit?o=U&video_id=QNLB185u9Nw
Why spend time on Security? Security does not add value to the company, people, or product. But if you don't have it 20% of businesses have shut down when nobody paid attention.
---
2/5/2016 https://www.youtube.com/watch?v=1qHWZd40JZA New Video about the blogpost Cyber Neighborhoods and how much time to spend on Cyber initiatives.
1/7/2016 https://youtu.be/DVD_aglVsoQ Video about Tony Zafiropoulos background a little bout him. ethical question – Is it ethical for Certified Ethical hacker to fix the security problems noted? No – Filotimo – The friend of Honor – Do the right thing – I will never release any information on any of my clients.
1/6/2016 https://youtu.be/iYp-1Wz_N8s Ransom32 a new Ransomware and its effects – new year show kickoff
3/12/2015 http://youtu.be/RZkR7HrbtXU We are Cyberstruck and #Rowhammer problem.
3/5/2015 http://youtu.be/22GJBApiDIU We must UP our #cybersecurity Also Polliwall – tip of day
2/26/2015 http://youtu.be/qnvbxqDUdn8 Privacy-NetNeutrality plus improving Cybersecurity
2/19/2015 http://youtu.be/rNsQclCtZ5E EquationGroup malware hacks Hard drive firmware and how to protect your network against any and all malware.
2/12/2015 http://youtu.be/61FMBx80nf0 Special edition – only discusses what a Fixvirus ethical hacker does
2/12/2015 http://youtu.be/XdYbffeOSp4 news: Patch tuesday with several Remote code execution flaws at Microsoft. Tip: create a Six Sigma security environment by using testing
2/4/2015 http://youtu.be/qx0GJzGhuQc News: Ransomware on your customers placed there from your webservers. risk Managment has failed -Tipof Day : test your systems.
1/29/2015 http://youtu.be/MAWUPuVv57w Ghost vulnerability plus email account hacking and how to protect.
1/27/2015 http://youtu.be/XnUL18SMdBI QWERTY keylogger – Philotimo and PCI compliance.
1/20/2015 http://youtu.be/17muZn5Vdkk #OpFrance DOS attacks on French websites and Sigma Scan
Added a video on SVAPE & C only: http://youtu.be/51V3-pGcAzE Scan – Vulnerability Analysis – Penetrate Exploit & Control
1/15/2015 http://youtu.be/qSb5J2_GHxQ State of the Union: Cybersecurity has priority – Alpha Scan explanation.
1/9/2015 http://youtu.be/X2xYE_xt-hY CES Show -FTC chairwoman comments – more vulnerability assessment explanation