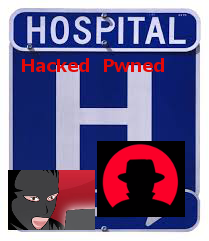 http://money.cnn.com/2014/08/18/technology/security/hospital-chs-hack/   CNN story of 4.5 mil records of Community Health Systems – why would hackers want these records?
Because the records have ss#, names and addresses.
" But this time, the hackers stole patient data instead. Hackers did not manage to steal information related to patients' medical histories, clinical operations or credit cards. "
The patient data is supposedly protected by HIPAA, but it is only as good as the hospital network overseers.
http://oversitesentry.com/?p=1166
And if the people in charge do not do the right things, like testing:
We test your systems to reduce your Security risks with our 4 service products (listed below: A,Σ, Ω, and Ψ)
Then it does not matter… One has to have a Security policy with stringent controls, physical and electronic. Wireless and wired, Internet and corporate network, Cloud and office. It must all work towards the goal of protecting your data.